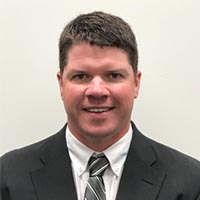 Brandon Edwards - Agent in Madison, NC
---
Street Address
200 N Market St
Madison, NC 27025
Office Phone: 336-548-4630
About Brandon Edwards
---
I have lived in Rockingham County my entire life and love this area. I look forward to seeing friends in the community as well as meeting new people to provide for your insurance needs. I am always available and as an agent of Farm Bureau, I take great responsibility in this opportunity to make a difference in your lives. Helping you is what we do best.
Accomplishments
Married to my beautiful wife, Isabel. We have two wonderful daughters Scarlett and Brianna.
Becoming an Agent for Farm Bureau in Madison NC.
Worked and lived my entire life in Rockingham County prior to becoming an agent. I love the area and seeing people that I will be providing service.
Education
Assoc. Degree in Automotive Maintenance Technology from Guilford Technical Community College
Two year Diploma in Industrial Maintenance Technology from Rockingham Community College