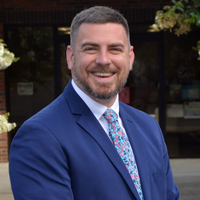 Jesse Fitts - Agent in Statesville, NC
---
Street Address
719 Turnersburg Hwy
Statesville, NC 28625
Office Phone: 704-876-2373
Mobile: 704-838-6751
About Jesse Fitts
---
As a new agent, I wish to prove to all clients, past, present and future that I, as part of Farm Bureau, am dedicated to the Golden Rule: Do unto others as they would do unto you. I wish to educate and protect and do it all with a smile.
Accomplishments
Finished in Top 150 out of 2000 Service Advisors for Southeast Toyota
In Top 5 of all Advisors for Flow Automotive 3 years in a row
4 year Letterman at South Iredell High School
Husband to Erin and father to Rylee.
Education
Graduate of South Iredell High School in 2005
Attended Emory and Henry College in Emory, VA