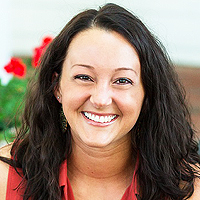 Aeriel Miller - Agent in Greensboro, NC
---
Street Address
3311 Burlington Rd Ste A
Greensboro, NC 27405
Office Phone: 336-375-6606
Mobile: 704-881-3313
About Aeriel Miller
---
I am honored to have the opportunity to serve our membership by providing the highest level of care, exceptional customer service and professional insurance recommendations for your insurance plan. I take pride in bringing a positive attitude and a smile to the office each and every day! As the wife of a 6th generation farmer, I appreciate the commitment Farm Bureau has to serving our agriculture community and look forward to sharing and promoting the membership benefits to everyone.
Accomplishments
Elected to the Board of Directors of Company Shops Market community co-op in 2016 and appointed to Secretary of the Board.
Member of several local food and agriculture advisory councils, working to build a sustainable food system in the Piedmont of North Carolina.
Helped establish a Young Farmers & Ranchers program in Guilford and Alamance County.
Education
Elon University Class of 2012 B.A. Strategic Communications
Honor graduate, Student Body President, 2-year Beta Club member, Varsity athlete and Peer Mentor in high school.