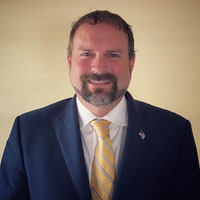 Lee Graham - Agent in Wallace, NC
---
Street Address
321 N Norwood St
Wallace, NC 28466
Office Phone: 910-285-5005
Mobile: 910-441-9715
About Lee Graham
---
As a life long resident of Duplin County I am committed to providing the highest quality products and service to our members. This is accomplished by my ability to offer multi-line insurance products through my association with NC Farm Bureau, Southern Farm Bureau Life Insurance, Farm Bureau Bank, and Blue Cross Blue Shield of North Carolina. I will strive to always provide superior service to our members by maintaining high standards for selecting my agents, provide those agents with the highest quality training, and I will instill in them that service to our members is, and will always remain, our number one priority. "If you Depend on Quality, Depend On Us!"
Accomplishments
Married to Amanda and we have a beautiful daughter named Scarlett Rose.
Serve as Chairman for the Board of Directors for the Duplin County Center for Leadership Development
Member of Grove Presbyterian Church
Volunteer Fireman for 17 yrs.