Davidson County : Smith Agency
---
229 N Talbert Blvd
Lexington NC 27292
336-249-4916
8:30am–5pm Mon-Fri
At Davidson County Farm Bureau, we are hometown people helping the community protect what matters most. Knowing the devastation that comes with the unexpected or unprotected losses, our team of professionals is dedicated to providing you with your insurance needs. Whether it is auto, homeowners, health or life insurance, Helping you is what we do best.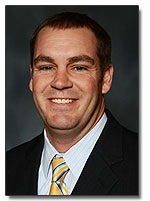 AGENCY MANAGER
Todd Smith
336-249-4916
Email Me
My Profile
Make sure your car battery and charging system are up to snuff.

Your mechanic should check the battery, charging system, and belts. Your battery can leave you stranded simply because it is old and lousy. Or it could leave you stranded because your charging system is not working well, and the battery is not getting charged properly. So have your mechanic check the battery and charging system.

Check your car's cooling system.

Make certain the antifreeze will protect your car at the winter temperatures you will experience in your area. For most areas, you will need a 50-50 mix of coolant to water. You may think, "I'll be extra good to my car, and give it 100% coolant." Guess What: You are wrong. The 50-50 mix has a lower freezing point. Not only that, but 100% coolant is less able to transfer heat away from your engine, and has been known to cause such nasty things as melted spark plugs of engine failure under the wrong circumstances. So, mix it up!

Make sure your car's windshield washer reservoir is full.

On a snowy or messy day, you can easily go through half a gallon or more of windshield washer fluid trying to keep your windshield clear. For that reason, it is also a good idea to keep some extra fluid in the trunk in case you run out. And make sure you get the good stuff - stay away from the already-half-frozen stuff outside your local gas station! Even though it may say "Good to Minus 30," some of these cheap fluids freeze around zero degrees!