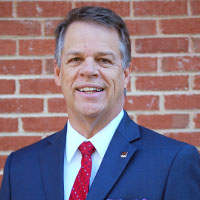 Mitchell Cox - Agent in Concord, NC
---
Street Address
210 Branchview Dr Se
Concord, NC 28025
Office Phone: 704-788-1119
About Mitchell Cox
---
In the 30 years Ive been selling insurance I have seen too many changes to count. What hasnt changed is the importance I place on trust, integrity, and the ability to make what I sell understandable. Satisfied clients know who, what, and why they bought the policies they own. Insuring important things makes sense. And making sense of your insurance is important too.
Accomplishments
Husband to Janie, Father to Eric, Jordan, Austin, and Sarah
Member of National Association of Insurance and Financial Advisors
Earned the Life Underwriter Training Council Fellow (LUTCF) Professional Designation and a gradute of the Leadership In Life Institute (LILI)
Attends The Refuge
Education
N.C. State University
Pembroke State University B.A.