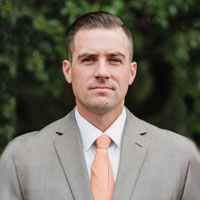 Bryan Gower - Agent in Southport, NC
---
Street Address
8108 River Rd
Southport, NC 28461
Office Phone: 910-457-9559
Mobile: 910-520-6121
About Bryan Gower
---
My mission with Farm Bureau is to be tenacious in exceeding expectations, building customer loyalty, and creating strong lasting relationships with all of my clients/friends.
Accomplishments
Married to my amazing wife Lindsay and proud father of Cameron, Brandon, and Juliana Grace
Southern Farm Bureau winner in Round Table, Winners Challenge, and Century Club Recipient.
North Carolina Farm Bureau winner in Olympics, Sportsman, and Presidents Club
Top 10 rookie agent during my rookie year.
Education
University of North Carolina at Wilmington (2003)
New Hanover High School, Wilmington, NC (1999)