Brunswick County : Ellenberg Agency
---
1205 Dickinson Dr
Leland NC 28451
910-371-2111
8:30am–5pm Mon-Fri
Welcome to your local Farm Bureau Agency.
We value the human relationship with the help of technology...not just technology. Give us a call. Send us an email. Drop by and visit. We can promise you service, value of the relationship, and professional insurance agents to help. "Insurance is not just a statistic".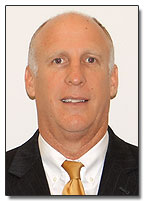 AGENCY MANAGER
Mark Ellenberg
910-371-2111
Email Me
My Profile
Looking for health insurance for dependents? Is there a less expensive alternative to your group health plan?

Your local Farm Bureau agent can assist you by reviewing your current coverage and looking for cost saving options. Give us a call...stop by...email us...to explore the possibility of real savings.

Life insurance is available at your local agency. Protect the next generation with the gift of life insurance.